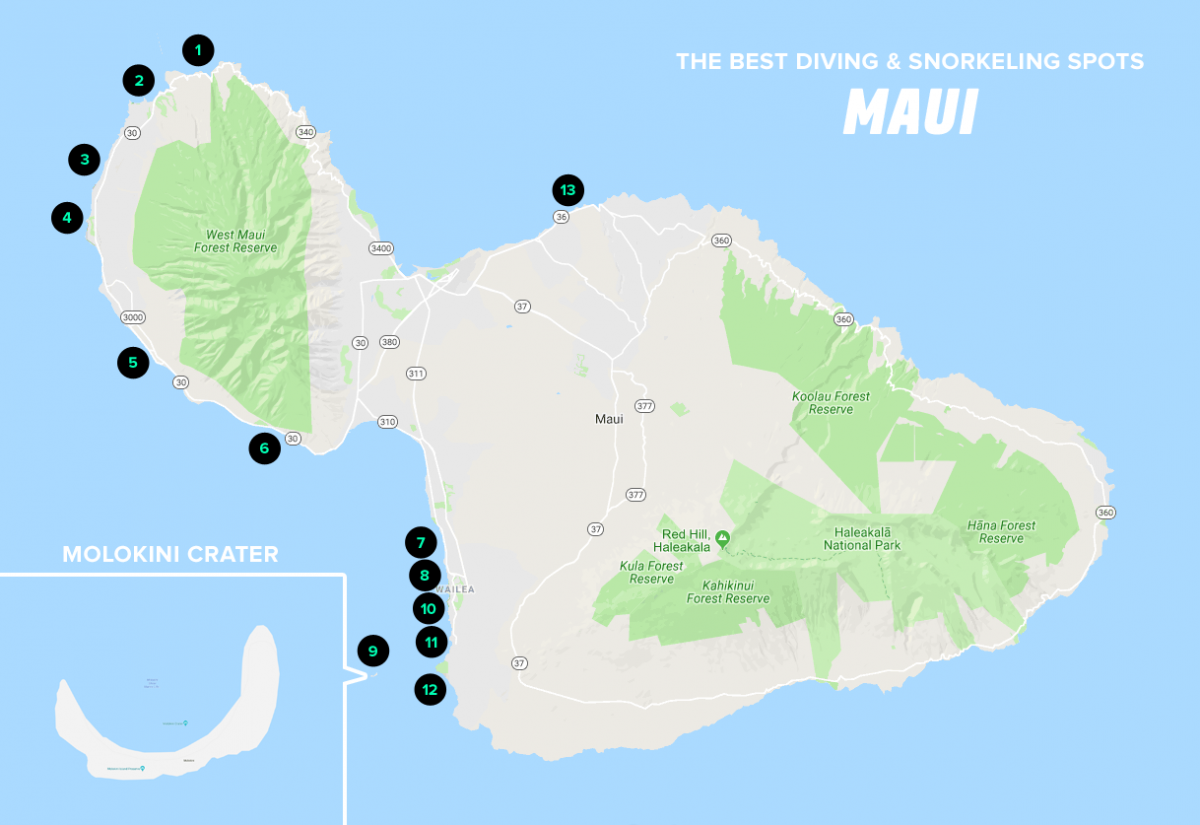 Hawai'i is one of the best dive destinations in the world –and for good reason! Located in the heart of the Pacific Ocean, the islands of Hawai'i are surrounded by clear blue waters that are teaming with an abundance of marine life. Hawai'i boasts many endemic species that can be found nowhere else on Earth. Hawai'i's unique underwater world is filled with photographic opportunities and sights galore.
The following are a few of the highlights of Maui's best snorkeling and scuba diving spots. Two popular beaches Makena Beach and Ho'okipa Beach, are terrible for swimming, scuba, or snorkeling, but one is perfect for sunbathing, and the other for wind-surfing. If you're planning a vacation or your next diving trip, check out our guide and see what you could be missing.
1. Honolua Bay

One of Maui's four marine preserves. 0.6 miles past mile marker 32 on Route 30, north of Kapalua. Look for the narrow dirt road that leads to the bay. Good for snorkeling and scuba diving. Best in summer.
Entry at the bay is very easy. Just wade into the water from the old boat ramp. Bear to the left or right side of the bay. Beware of large surf in the winter on either point of the bay. Beautiful coral grows on either side.
Recommended dive site for all levels.
Bring a fish card to identify the many different species residing here. It's a sheltered marine preserve, unique because you can access it from the shoreline. The shallow reef formations on the right-hand side of the bay feature excellent coral structures and a vast population of reef fish, with occasional green sea turtles. The left-side of the bay is abundant with small cracks and crevices found in the lava where you can see, but not touch the marine life that flourishes here.
2. Kapalua Beach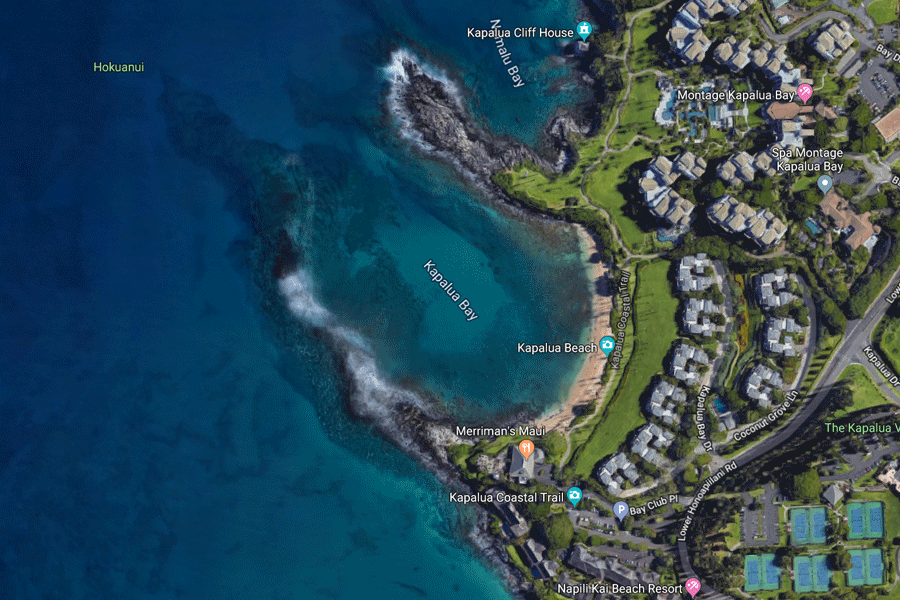 Nominated by Sunset Magazine as the world's nicest beach. Located on Highway 30 in Kapalua. Look for public beach access between the Napili Kai and Kapalua Resorts.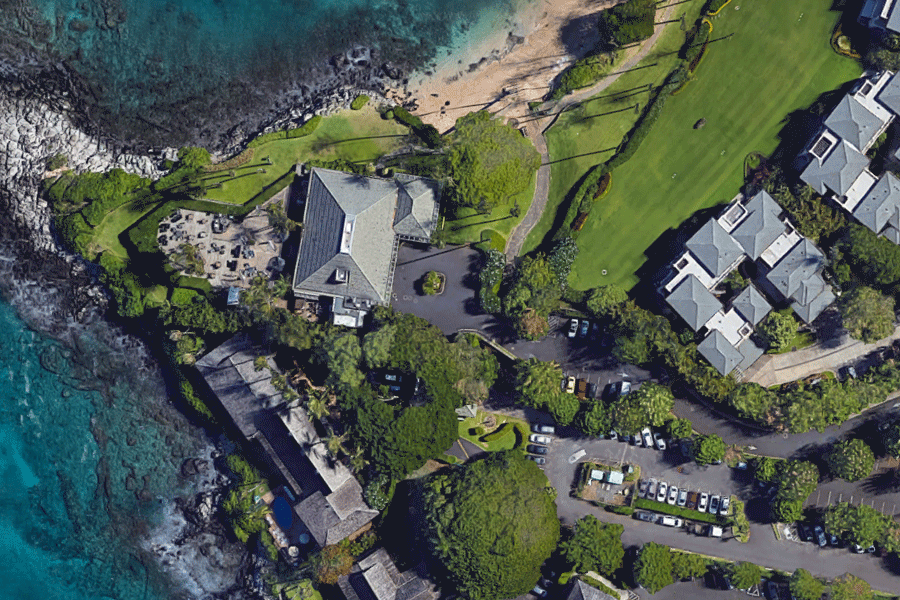 Once you've parked in the public parking lot, proceed through the tunnel next to the showers and restrooms to the beach. The best snorkeling and diving is across the beach on the right. Water in the bay is usually calm and protected, however, there may be strong currents offshore. This area supports a large population of reef fish and is a good location for beginners because of the easy entry.
Not just one of the best beaches in the world, but also a place to enjoy great snorkeling too. Showers and restrooms make this destination comfortable. Two lava fingers extend on either side of the bay that offer excellent coral structure and yield huge populations of fish. The inside of the bay can appear calm, but take caution not to swim too far off-shore as you may encounter strong currents.
3. Kahekili Beach Park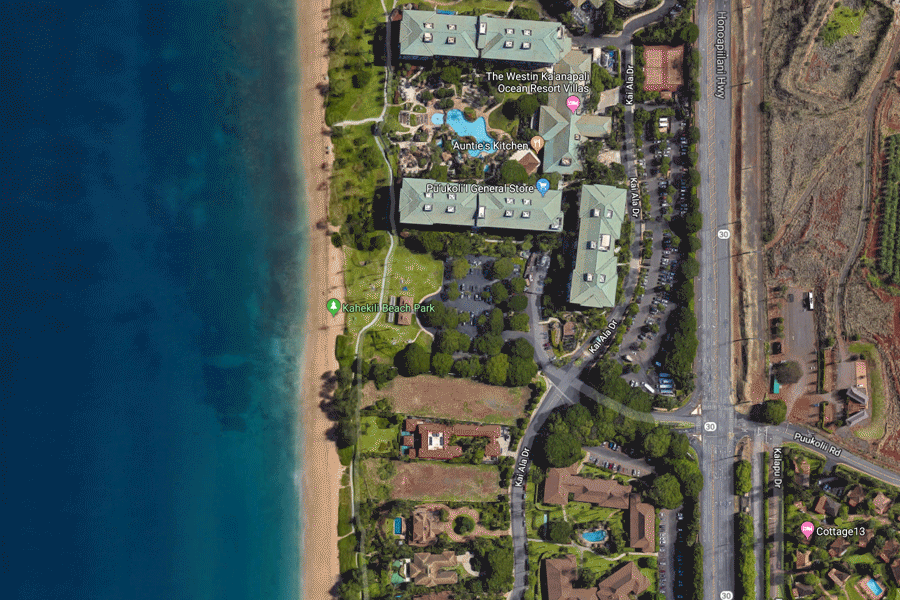 Good for beginners. (Old Airport Beach) – Driving north on Route 30 towards Kapalua, enter at the northern-most entrance to Ka'anapali Resort. Look for public beach access and parking towards the right. Facilities include: showers, restrooms, and picnic tables.
On the north end of Ka'anapali, across from the Sugar Cane Train stop, is one of the most popular snorkel and dive locations. Great for families, this spot offers calm waters and an expansive reef. This location is also ideal for beginner scuba.

4. Black Rock (Ka'anapali)
Located behind the Sheraton Hotel. In the midst of Ka'anapali Resort, there is excellent diving and snorkeling around the lava rock in front of the hotel. Black Rock is nestled at the south-end of the resort and is conveniently located near shopping and dozens of beach-side restaurants. Some public beach parking is available in the Sheraton parking structure on the ground floor, but is limited (just a handful of spaces), so arrive early. There are two possible entries:
From the south-end, behind the Sheraton, enter from the beach and swim out along the reef which extends from the base of Black Rock. The water here is typically protected with calm, clear conditions.
On the north-side, enter from the beach and follow the lava rock outcropping. This end may be more exposed to wind and waves so use caution.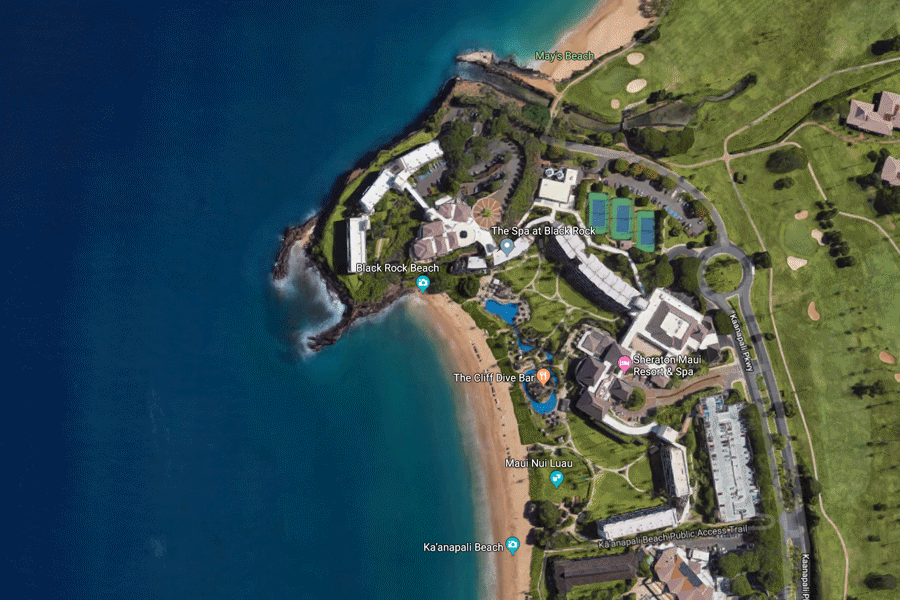 As a dive location, it's fast becoming recognized for its abundance of marine life. Truly, one of the most unique spots that is densely populated with marine life of all kinds. An extensive lava formation breaks Maui's longest stretch of beach and catches the current that runs along the coastline. And, because of this current, there is a multitude of underwater life that call this special place home. If you look closely you may be fortunate enough to come across a large, bright-red nudibranch, more commonly known as a "Spanish Dancer". Look for the brightly colored eggs that collectively look like an underwater rose.
For snorkeling, this is one of the premier sites in all of Maui. It's also unique because it's closer to shore and the shallow waters make it a perfect spot for a beginner, but farther off-shore the currents can be occasionally strong; so proceed with caution! On a good day, you can see loads of marine life: eels, turtles, eagle rays, and more!
5. Olowalu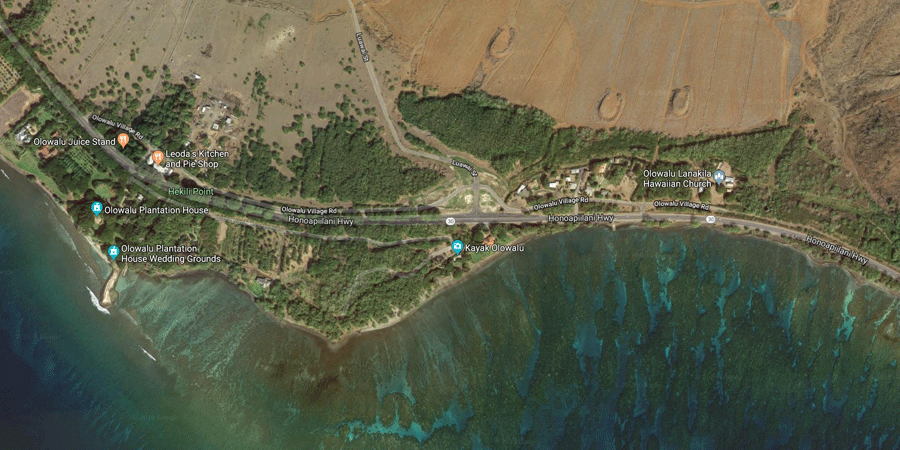 South of Lahaina on Route 30 look for Mile Marker 14 (on the mountain side of the road) between Lahaina and Ma'alaea. One of Maui's most popular snorkeling and scuba diving areas. Easy access from the road with abundant coral and fish.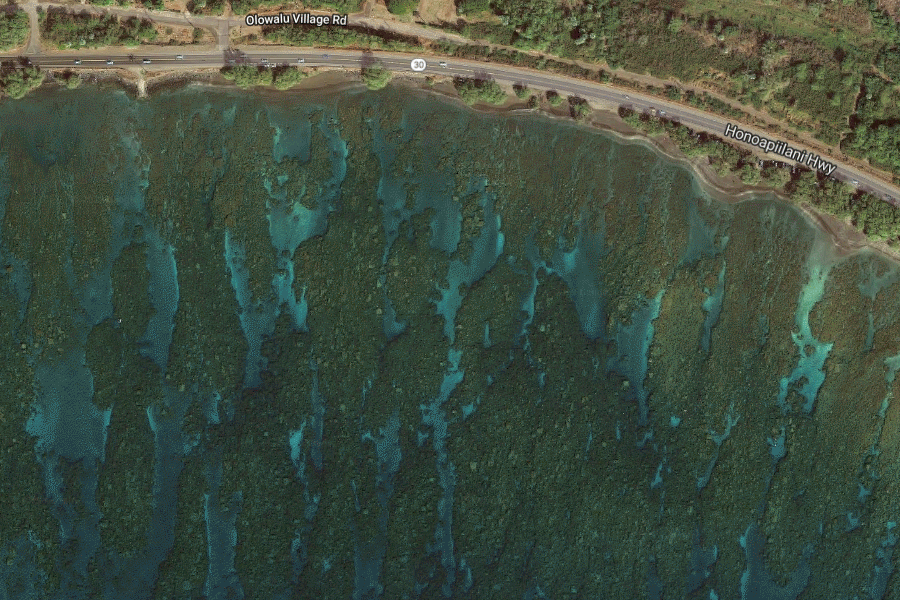 You'll find a large expansive coral reef that stretches along the shoreline and extends for hundreds of yards out to sea. It's full of diverse and abundant marine life here. The most popular beginner's spot is right across from the Mile 14 highway marker. Look for a channel through the reef for diving farther out. Many intermediate routes further right, just look for passages between large coral heads.
Home to a variety of species of coral, this site is accessible from the coastline, but a boat charter can offer you access to the turtles which inhabit the far-side of the reef here. Large numbers of manta rays have also been sighted here.
This is a known blacktip reef shark sanctuary, and tiger sharks have been spotted here. Though attacks are statistically rare, they have happened here in the past. Avoid when the water is murky.
Take care when parking as cars do get stuck in the sand here.
6. Coral Gardens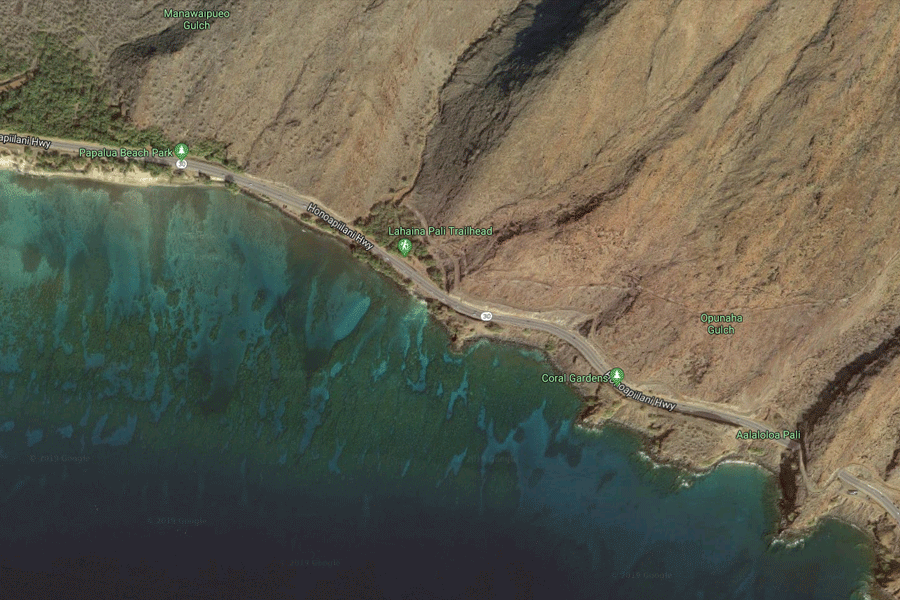 On Hwy. 30 towards Lahaina from Maalaea, 0.6 miles past the Pali Tunnel. Park on the shoulder at the bottom of the hill.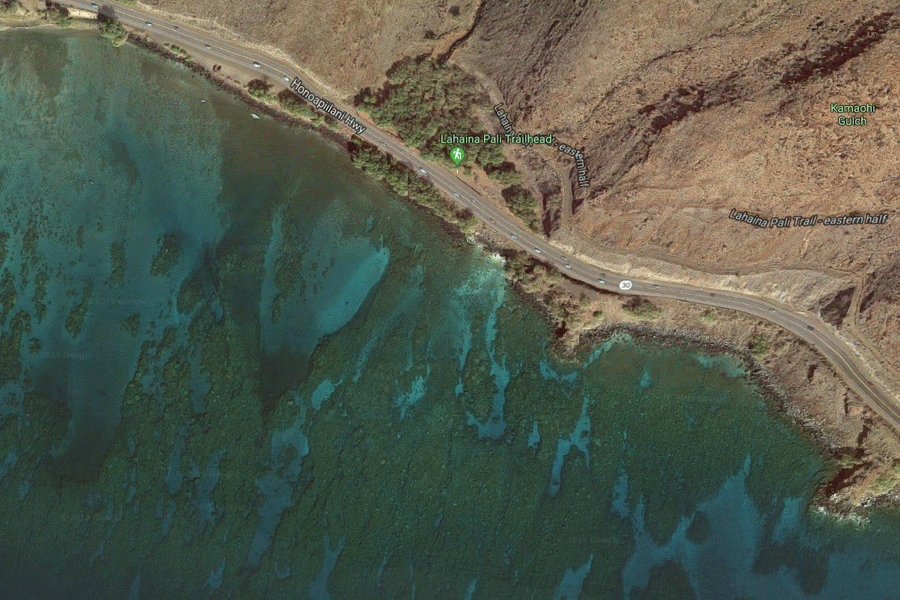 A popular site with charter boats, Coral Gardens, off the Pali coastline, is also accessible from shore, for those with a sense of adventure. There are two entry points.
Beginners will find the small, sandy area easiest.
Intermediate divers may want to look for a rocky hill, to the south, and enter from the slight embankment to the right as you face the ocean. More marine life: coral formations, turtles, eels, and multitudes of colorful fish.
Fast access by boat from Ma'alaea Harbor can get you snorkeling in this sheltered coastal treasure in minutes. You've heard of the famous little state fish of Hawai'i with the great big name: Humuhumunukunukuapua'a? Now you can see one for yourself at this great snorkeling location, along with dozens of its other fellow marine friends.
7. Kamaole Parks I, II, & III
Kihei's best beaches for swimming and sunbathing. Found along South Kihei Road before entering Wailea. Excellent for beginners. Best diving found along rocky points on either end of beaches. Facilities available: restrooms, showers. Lifeguards on duty. Good for boogie boarding.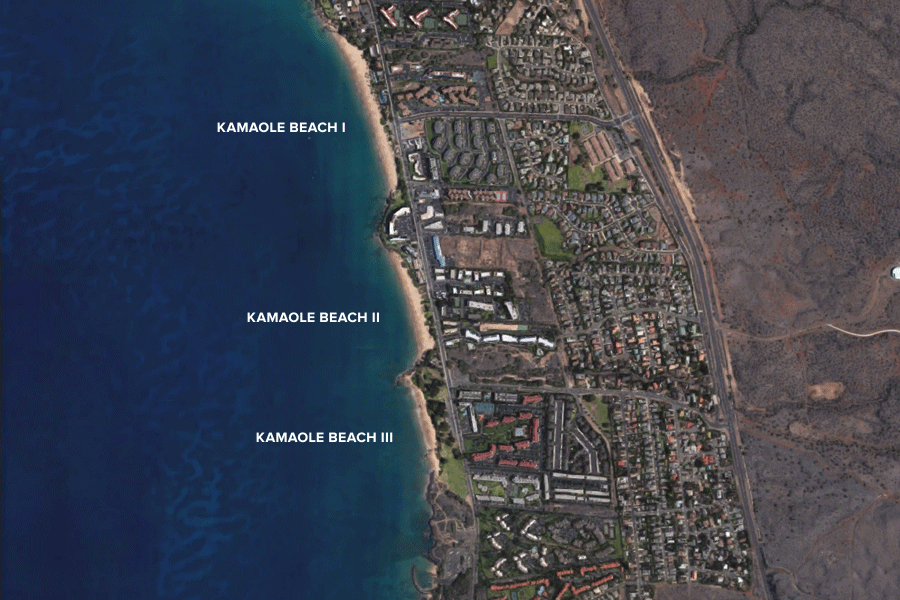 Parks 1, 2, and 3 extend along Maui's west coast in Kihei. Extensive sand beaches offer families great fun in the sun with nearby lifeguards. Reefs on lava outcroppings separating each beach provide colorful beginner snorkeling. The most extensive beaches are at Kamaole 1 and 2. The most colorful reef is near the rocks at beach 3. Parking, restrooms, showers, grills and picnic areas are also available during daylight hours.
8. Ulua Beach / Mokapu Beach
Located in the heart of the Wailea Resort area. Turn right on public beach access just past Renaissance Wailea Hotel. Snorkel and scuba diving on rocky point between both beaches. Deeper reef extends further out. Amenities include showers and restrooms.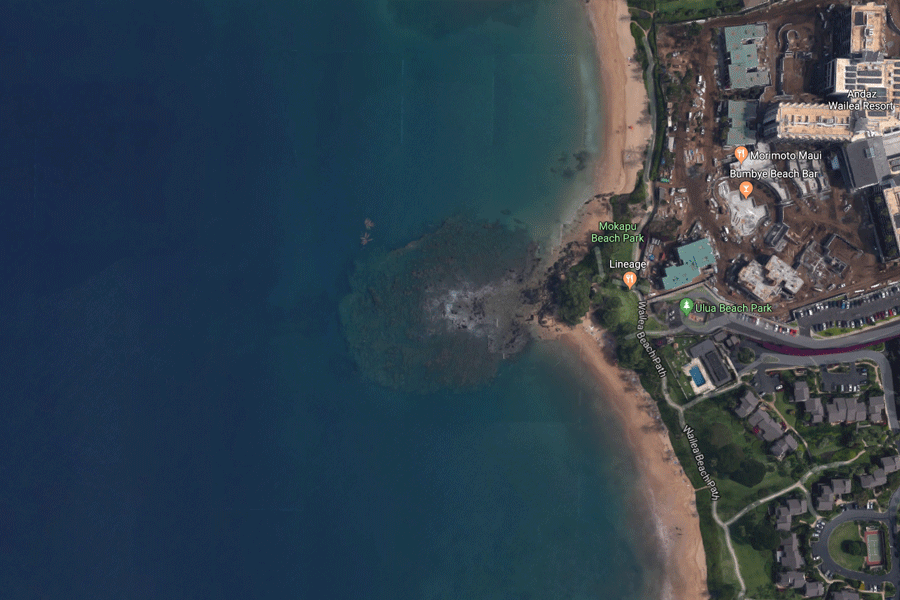 You can park in the beach access parking lot shown on the map. You can enter on either side of the rocky point and snorkel along the reef. This dive is good for beginners of snorkeling or scuba diving. Farther out is a deeper reef for the more experienced diver.
Ulua, off Wailea's famous Gold Coast, is a terrific dive and an even better night dive. It's an easy kick off the beach to the first shallow water reef. If you keep going, there is a deeper, outer-reef not far away. There's a good chance to see turtles, mantas, or squid on this reef at night!
This unique spot also offers one of the easiest beginner snorkeling experiences on the island. A gentle, sloping beach gives way to a protected inner-reef system that abounds with all kinds of marine life. Beyond that is the outer-reef which is a fantastic advanced snorkeling opportunity, with depths up to 45 feet, that the avid free-diver can enjoy. Look for the shy, curious, puffer fish and for schools of yellow-striped goatfish that call the shallow entry of the inner-reef their home.
9. Molokini Crater
One of Maui's four marine preserves. Hawai'i's most exciting snorkeling and scuba diving destination. Accessible only by boat. Call any Maui Dive Shop for reservations.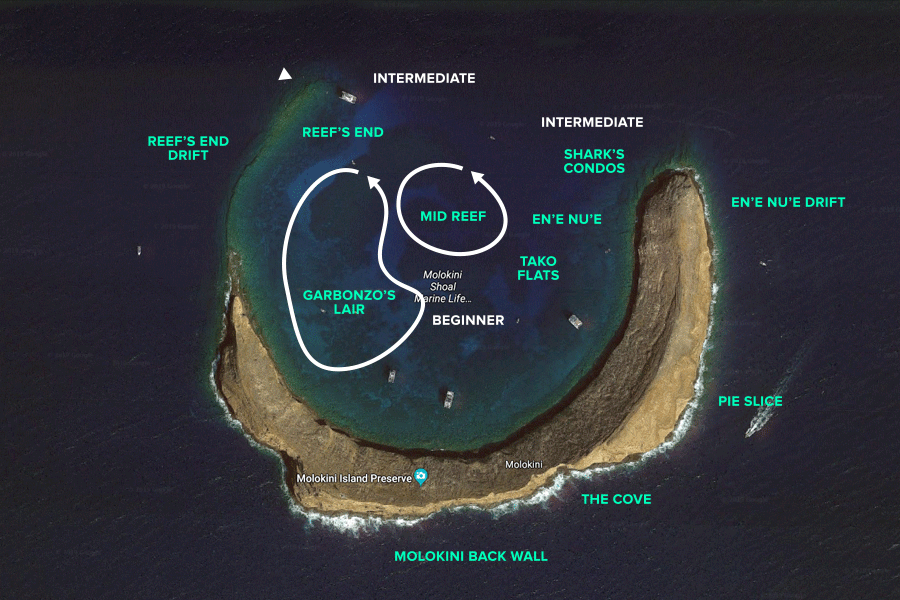 Molokini is a collection of premier snorkeling and diving spots. The host of sites includes Reef's End, Mid Reef, En'e Nu'e, Tako Flats and Garbonzo's lair among the inner reefs. These are famous for eels, endemic tropical fish, dolphins, and manta rays. The back wall, or outer reef, includes End of the World, Reef's End Drift, En'e Nu'e Drift, Sharks' Condos, and The Chimney. These sites are known for pelagic activity and rare Hawai'ian marine-life sightings. Molokini back wall dives are rated the best wall dives in the United States.
Molokini Reef's End
This is the terminus of a submerged reef that extends Molokini's crescent shape. When there is a little current, swarms of schooling reef fish fill the waters in front of Reef's End. the bottom here is strewn with boulders and flat slabs of lava. These form perfect hiding places for night species and whitetip reef sharks that rest in crevices during the day. Blue, blue, blue! Keep glancing out into the blue for pelagics.
Molokini Center Reef
Not quite center, this reef system is found on the Reef's End side of the inside of the crater. It is a massive growth of pristine coral that extends out to the open ocean and is bordered on either side by channels of sand. Grey and white-tip reef sharks can be seen effortlessly gliding over this area along with manta rays. Rare sightings of whale sharks and even humpback whales have occurred here off the deeper end of this reef system.
Molokini En'e Nu'e Side
The other corner of Molokini has a more severe drop-off. Inside has prolific coral growth and a boulder area that schooling butterfly fish prefer. As you move into deeper water, a rubble bottom drops quickly, and it is on this slope that you will find a habitat for day octopus.
Molokini Back Wall
Probably one of the most famous advanced dive spots in all of Hawai'i. Not many open-water dives can compare to this! In some sections this site drops straight down to 350 feet. Divers with good buoyancy skills will be rewarded with crevices filled with some of Hawai'i's less common fish species. No matter what the visibility is elsewhere on Maui, it is always better here. Rays, sharks, schooling tuna, and even whale sharks have been sighted in the deep blue waters here.
Molokini is also one of Hawai'i's most popular snorkeling sites. A bird sanctuary above and a marine preserve below. Schools of colorful fish, crystal clear water, and coral reefs keep visitors returning year after year. Molokini's protective crater affords snorkelers a calm and safe environment. For this same reason, many species of fish, both large and small, congregate here. There is always something to see in the crater. Highly recommended as a "must-do" item, on your list of Maui activities.
10. Wailea Beach

Look for the public beach access parking lot between Grand Wailea and Four Seasons Hotel in Wailea. Excellent beach for sunbathing and swimming, with good snorkeling and scuba diving at the rocky point to the left. This area has more coral than Ulua but you need to swim a little farther. Good area for beginners and intermediate. Morning is always best here.
Wailea Point, directly off Wailea Beach, at the southern end, where the beach meets the rocky coastline, is a spot where dozens of turtles can be found. Because of the large abundance of coral heads and sea grass, turtles enjoy plenty of shelter and food here. Always be sure to view from a distance and not harass them, as this disrupts their natural behavior patterns.
11. Makena Landing / Five Caves (Five Graves)
Just past Makena Surf Condo turn right on Old Makena Road. Proceed 0.4 miles to the sign. Parking, showers, restrooms. Good snorkeling to left of bay, excellent scuba diving to right. 0.2 miles back along Makena Roas is Five Caves / Five Graves. WARNING: DO NOT ENTER CAVES.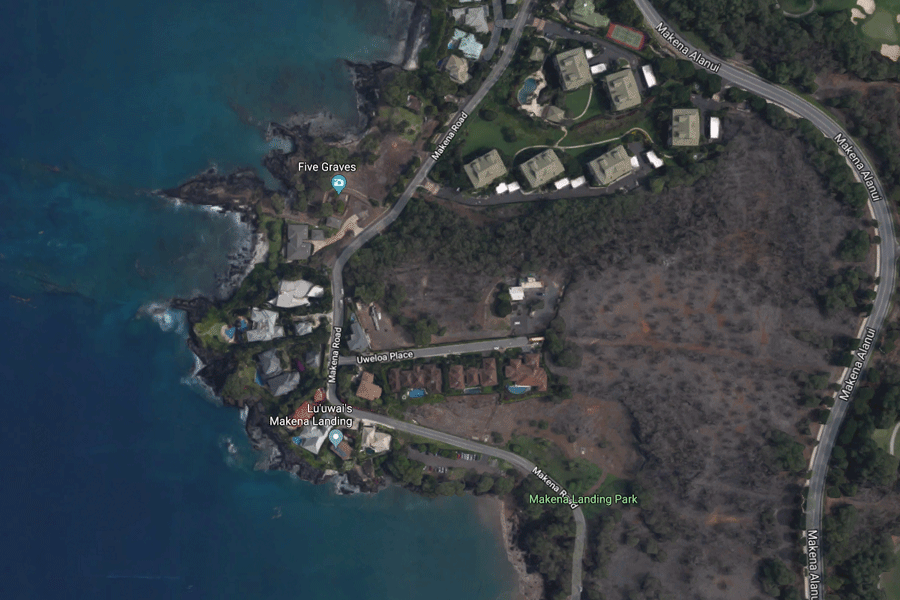 Off South Maui's Makena Coast, there are 2 lava fingers that extend offshore that are a favorite home to the green sea turtles and also a popular dive spot due to the large schools of fish that can be found here. Believe it or not, the original name to this site was actually 5 Graves, because of the historic burial site that are nearby on shore. Because the actual dive site does not have any underwater graves or burials, divers renamed the site 5 Caves, due to the numerous fish caves scattered within the lava fingers. These caves make a perfect safe-harbor for multitudes of fish, dozens of turtles, and lots of moray eels. The large area known as Turtle Town begins here and extends south along the beach (great Turtle Town snorkeling a little further south at Maluaka Beach).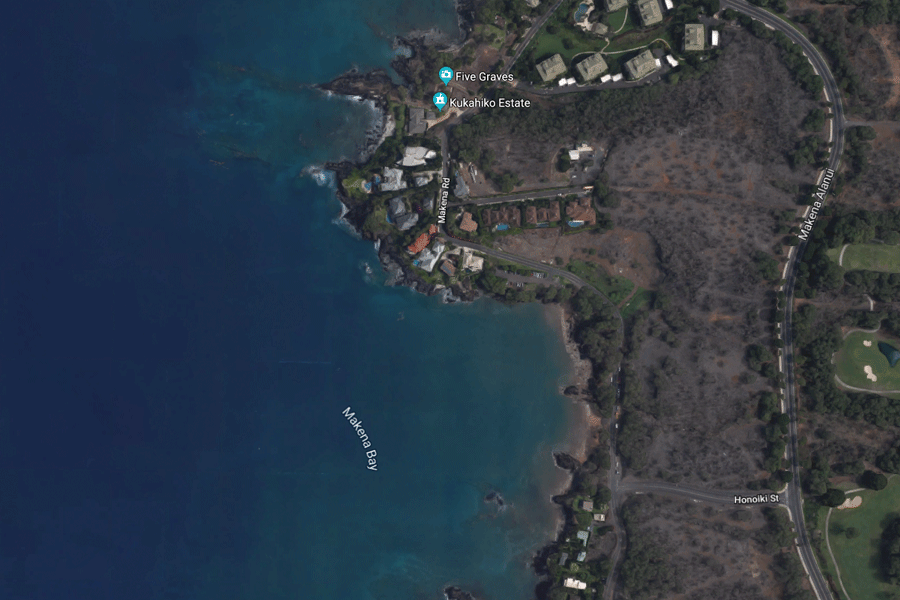 There are 2 entry points. One is more advanced, and the other is better for beginners.
This is for more experienced divers. You'll find this area exciting. Entry in front of the grave site area is rocky lava. Once offshore, however, the area becomes riddled with caves and coral heads. Turtles are plentiful in this region.
Park at the public parking next to the shower and restrooms. For beginners, you're recommended to enter off the small sandy beach (known as Chang's Beach) and dive toward your right.
Cathedrals I & II (Lanai)
Both of the Cathedrals are highly recommended. Consider them "must-do" dives for all divers. You'll need to take a ferry ride from Lahaina, Maui to reach Lanai just across the channel.
Cathedrals I
Just off the rugged coast of Lanai, outside of the Manele Small Boat Harbor, is this famed Hawaiian dive spot. This "underwater cavern" was actually formed thousands of years ago by underwater bubbling lava that created a natural chamber. Erosion has, over time, created several openings in the outside walls and tall ceilings that allow sunlight to enter and scatter throughout, creating an old cathedral stained-glass effect. There is even a natural pulpit-like rock formation in the center of the floor that adds to the experience. The chamber floor sits at approximately 55 ft. which makes it a great dive for all levels.
Cathedrals II
Not too far west of Cathedrals I and just off the coastline of Lanai is the underwater cavern appropriately dubbed Cathedrals II. These caverns offer yet a different experience. One unique feature that makes this dive memorable is "The Chandelier", a formation of black coral that appears white in color and hangs from the cathedral ceiling inside the cavern.
85 Foot Pinnacle
A lightly visited location, just off Pu'u Ola'i, the red hill in southwest Maui, at approximately 85 ft. deep, a pinnacle rises towards the surface, and is home to a multi-level dwelling of marine life. One of its most prolific dwellers is the blue-striped Ta'ape fish, that can be found in huge schools.
Carthaginian II Wreck (Lahaina)
Dive Maui's newest wreck! Recently sunk on December 13, 2005, off the coast of Lahaina by Atlantis Submarines. This 97ft. double-masted brig once sat dock-side at Lahaina Harbor as a whaling museum. Today she rests peacefully on the bottom, at 95ft., and serves as a new underwater attraction and artificial reef that is fast becoming home to a multitude of marine life. This fantastic wreck dive offers exterior and interior exploration. A half mile out from shore, it's best to access this site by boat.
St. Anthony's Wreck (Kamaole)
Just south of the Kihei Small Boat Ramp is the St. Anthony. Too far for beach entry but easily accessed by boats is the 65 foot long, former fishing vessel, St. Anthony. She was scuttled in 1997 to create an artificial reef habitat and dive site. The wreck was gutted and access holes were cut into the sides of the vessel that provide adventurous divers entry for interior exploration. Look for the elusive frog fish that calls this wreck home.
12. Makena Beach
Also known as Big Beach or Oneloa Beach. Drive through Makena Resort to Maui Prince Hotel. You'll see a large red hill in the distance called Pu'u OLa'i. Makena Beach extends from the base of the hill south one mile. Paved parking lot on the right side of the road. One of Maui's most popular beaches. This is a great beach for basking in the sun, but THE WATERS ARE NOT SAFE for snorkeling, diving, boogie boarding, inexperienced swimmers, or children. Waves here can be large, and the currents are strong. Never turn your back on the ocean here.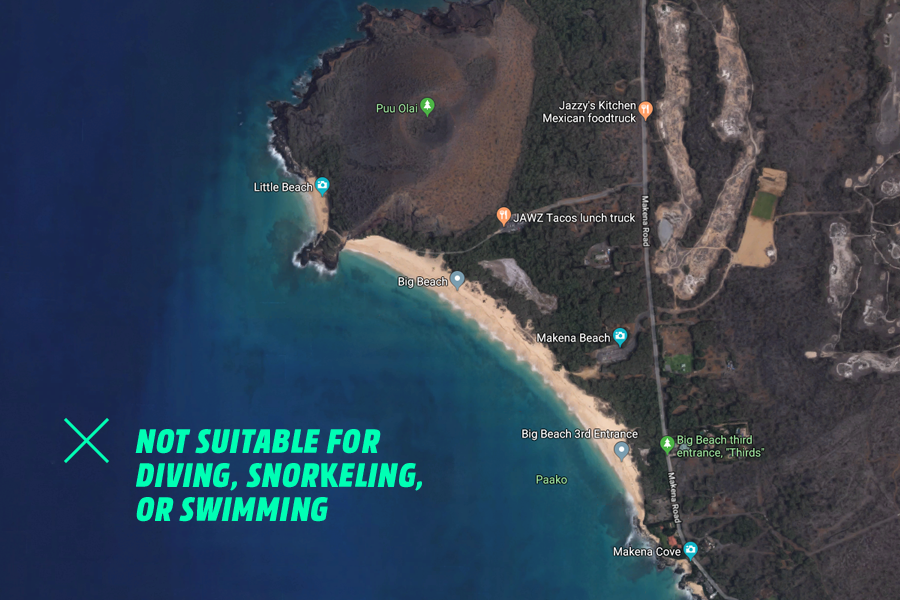 13. Ho'okipa Beach Park
Located on Highway 36 just past Paia. Famous as a world class windsurfing beach. Picnic tables, showers and restrooms. Not recommended for diving.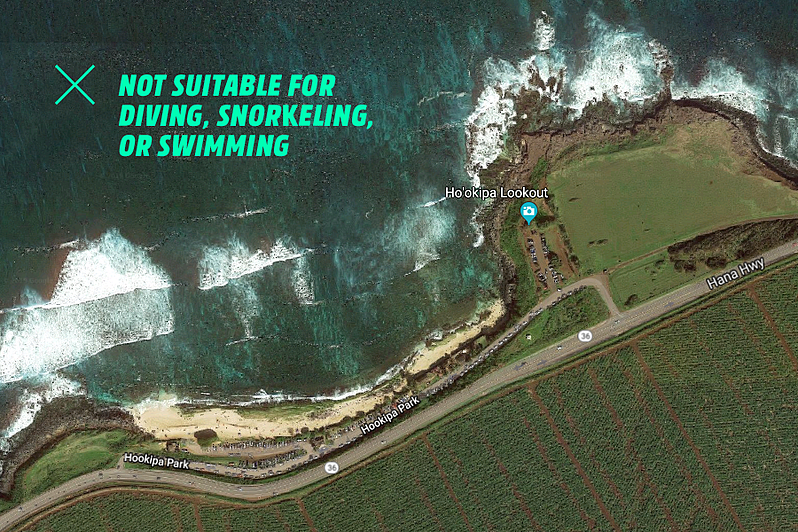 Did we miss a spot? Let us know your favorite places to dive in Maui (or around the rest of Hawai'i). Looking for good diving spots in another part of the world? Drop us a line!